Posts Tagged 'undead'
Following on from last week's post about the Toad Dragon, I'm taking a look at another old and obscure Citadel Miniature. This time, it's from the C18 Night Horrors range. The Night Horrors were an interesting collection of demons (but not Daemons), devils, undead, and miscellaneous monsters, advertised between 1986 and 1989. You can find a complete set of ads and flyers on the Stuff of Legends web site.
In the years that followed, the demons were replaced by Daemons as Realm of Chaosi codified the Ruinous Powers and their minions for the first time. Most of the Undead received their own army lists, starting in Ravening Hordes for 2nd edition Warhammer and developing through Warhammer Armies and the Undead, Vampire Counts, and Tomb Kings books for subsequent editions. And the monsters. . . well, the monsters languished.
The Bloodwrack Medusae are part of the Dark Elves army, but the rest of the monsters are all but forgotten.
Here's my take on one of them, with stats for WFRP4. As always, everything that follows is to be considered a fan work and no challenge is intended to copyrights held by Games Workshop, Cubicle 7, or anyone else.
---
Spectral Claw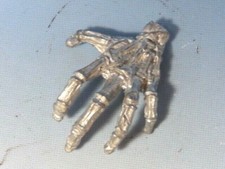 The Spectral Claw is a rare and dreadful monster, created when the severed hand of a Giant is animated by foul Necromancy or Chaotic energies. They may follow the orders of a master such as a Necromancer or a Chaos Sorcerer, or rampage mindlessly through whatever deep forest or desolate landscape saw them come into being.
A Spectral Claw moves by dragging itself across the ground with its fingers. The forces that animate it give it a dim awareness of its surroundings, equivalent to Dark Vision with a range of 20 yards. Its fingers are the size of logs, and make effective if unsophisticated weapons.
| | | | | | | | | | | | |
| --- | --- | --- | --- | --- | --- | --- | --- | --- | --- | --- | --- |
| M | WS | BS | S | T | I | Ag | Dex | Int | WP | Fel | W |
| 3 | 45 | – | 50 | 55 | 35 | 20 | – | – | – | – | 15 |
Traits: Bash (2) +8, Construct, Dark Vision, Fear 3, Painless, Undead, Unstable
Optional: Corruption (Minor), Diseased, Infected, Infestation
---
More Like This
Zoats: From Warhammer to 40K (and back again)
The Ambull: From 40K to WFRP (again)
Viydagg: A Forgotten WFRP Monster
Mardagg: A Forgotten WFRP Monster
Mabrothrax: A Forgotten WFRP Monster
Jabberwock: A Forgotten WFRP Monster
The Devil Eel, a New Monster for WFRP4
Gargoyle: A Forgotten WFRP Monster
The Toad Dragon: An Old Citadel Miniature Described for WFRP4
The Mud Elemental: Two Old Monsters Combined for WFRP4
Ngaaranh Spawn of Chaos: A Very Old Citadel Miniature for WFRP4
Leaping Slomm Two-Face, Another Old Citadel Miniature
Zygor Snake-Arms, Another Old Citadel Miniature
Independent Daemons for WFRP 4th Edition
Chaos Snakemen – A Forgotten Warhammer Race
Menfish – Another Lost Warhammer Race
Golems in Warhammer

Categories:

games, Monsters, WFRP
Citadel Miniatures, monster, Night Horrors, Spectral Claw, undead, warhammer, warhammer fantasy roleplay, WFRP, WFRP4
In an earlier post, I wrote about my love for monsters and picked out a few of my favorite rpg monster books. A lot of you got back to me with your own favorites, either in the comments section or through Facebook or other means, and now I have quite a few more books to look at – so thanks for that!
This time, I'll be looking at some monster books that I've written or co-written. I'll explain what I hoped to achieve with each one, and you can judge for yourselves how well I succeeded or failed. As always, I'd love to have your thoughts on each one, especially what you think would have made it better.
There's more to this request than simple nostalgia, or a need for validation. You see, I'm gearing up for a new project (more than one, in fact: #secretprojects) and I'm studying previous rpg monsters books to figure out what features turn a good one into a great one. I'll be issuing a formal announcement about the project some time in the next few weeks, but until then, tell me what would make a monster book irresistible to you. What are the must-haves, what are the cut-aboves, and what are the mind-blowing, come-look-at-this, can-you-believe-it features that turn a monster treatment into something that you have to use as soon as you can, and that you will talk about for the rest of your gaming career?
Creatures of Freeport
https://greenroninstore.com/products/creatures-of-freeport-pdf
A great attraction of this project was the opportunity to work with my friend Keith Baker. Before Keith created Eberron, Gloom, and the other games that have made him rightly famous, we worked together in a video game studio in Boulder, Colorado. We were both impressed by Green Ronin's Freeport setting: I mean, D&D with pirates – what's not to love? I had been thinking of ways to expand and improve the way monsters are covered in tabletop rpgs ever since my Games Workshop days, and Keith was a whiz at the complex process of creating monster stats for the 3.5/d20 system.
We added three sections to the standard treatment. The first set out the kind of information about the creature that might be available on a successful knowledge check, the second covered various magical, alchemical, and other uses for the dead creature's remains, and the third presented a selection of adventure hooks.
The book got some good reviews, and we were both quite happy with it. But I'm still left with the feeling that it is possible to do better.
Atlas of the Walking Dead
https://www.drivethrurpg.com/product/566/Atlas-of-the-Walking-Dead?affiliate_id=386172
Eden Studios' zombie survival-horror game All Flesh Must Be Eaten came out just at the start of that heady (brain-y?) period in which zombie horror began to take over the zeitgeist. Since the undead have always been one of my favorite classes of monsters, I jumped at the chance to pitch them a monster book.
I took myth and folklore as my starting point here. Over the years, I had read an enormous amount on the subject, especially on the creatures of folklore around the world. I found that the walking dead – which I defined as all kinds of corporeal undead, not just zombies – broke down into a number of classes, with variants from different parts of the world. For each type, I started with a short piece of atmospheric fiction to set the scene, defined the base creature in terms of the game's rules, and added a short section on variants. In many cases it was necessary to define new traits (Aspects in the game's lingo), and as in Creatures of Freeport I finished up with a selection of adventure hooks.
GURPS Faerie
http://www.sjgames.com/gurps/books/faerie/
Like all the GURPS worldbooks, this was as much a setting as a bestiary. Faeries are found across the world under a range of local names, and like the walking dead they break down into a number of distinct types. In addition to chapters on faerie lands, faerie magic, and faerie nature, I wrote a chapter of templates for the various types with variants on each. Following the format established by previous monster-centric sourcebooks for GURPS, a chapter on campaigns and adventures took the place of adventure seeds per template.
I like this book because faeries are another favorite class of monsters, and because it allowed me to examine their folkloric context in greater depth than a bestiary-style book would have permitted. Faerie is a tone as much as a class of monster, with its own feel and its own tropes, and to neglect this would have been to do the subject matter a grave injustice – and who knows, possibly to suffer spoiled milk and bedbugs for the rest of my life!
Werewolves: A Hunter's Guide
https://ospreypublishing.com/werewolves-a-hunter-s-guide
Is this an rpg monster book, really? There's not a rule or a game stat in sight, but I think of all the Dark Osprey line as systemless rpg sourcebooks. I took the example set by line editor (and future designer of the excellent fantasy skirmish game Frostgrave) Joe McCullough in his book Zombies: A Hunter's Guide, and set my werewolf book in the same alternate reality.
Although I already knew quite a bit about werewolves, the research for this book led me to the conclusion that there are at least five distinct kinds. Each one got a chapter, supported by case studies drawn (mostly) from genuine historical and mythological sources, and I took a couple of chapters to shoot a glance at other shapeshifters (such as Japanese hengeyokai and Indian weretigers) and to invent various organizations that hunt and/or study werewolves. Of course, I covered werewolves at war, from Norse ulfhednar to the ever-popular Nazi werewolves and various Cold War spin-offs from Nazi research in that area.
The viewpoint is from contemporary urban fantasy rather than medieval fantasy, but that made a nice change, and I didn't think that it lessened the book's usefulness for rpgs set in any time or place. It is not aimed at any particular rules set, so there is some work for the GM to do, but I still hope that it offers a good source of information and ideas.
Colonial Gothic Bestiary
https://www.rogue-games.net/bestiary
Colonial Gothic is a very nice historical-fantasy game published by Rogue Games. I met Rogue's head honcho Richard Iorio years ago when we were both working on the Hogshead Publishing booth at GenCon, and when he published Colonial Gothic I got in touch. A solid monster book is an essential part of an rpg's core, and I aimed to provide one in the Colonial Gothic Bestiary.
As monster books go, it's fairly unambitious. The aim was to cover a large number of critters and provide the GM with options, rather than to look at a smaller number in detail. What I like most about it is the way that it reflects the setting in its blend of North American wildlife, Native American folklore monsters, fearsome critters from tall tales, and Old World monsters that might believably have come across with the colonists.
---
So there you have it – or them. I will look forward to hearing your views, and discussing what features make a monster treatment really shine. And as soon as I can, I'll be lifting the curtain on my #secretprojects. Bye for now!
Categories:

games, Monsters, Myth and Folklore, Uncategorized
3.5, AFMBE, All Flesh Must be Eaten, Colonail, colonial gothic, d&d, d20, Dark Osprey, faerie, folklore, Freeport, games, GURPS, Monsters, nazi werewolves, osprey, rpg, undead, werewolves, Zombies