Posts Tagged 'Steampunk'
This time, there's no theme – it's just a few bits and pieces that have caught my eye.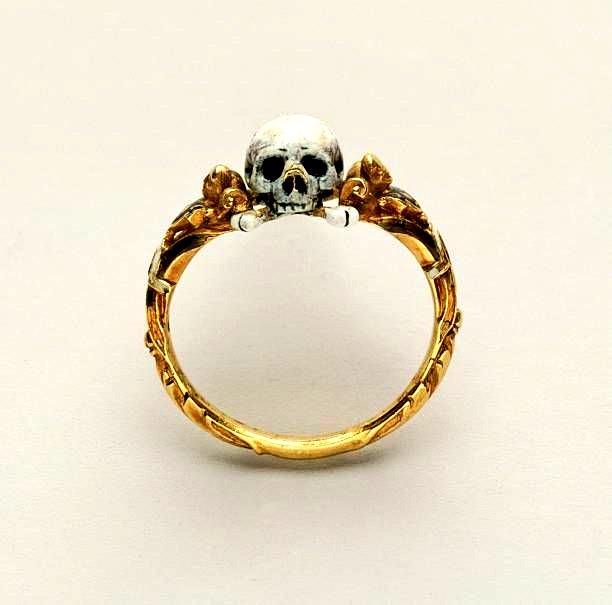 This delicate memento mori ring would look good on the hand of a gothic lady, or even a female necromancer. In the latter case, it might be enchanted – giving a bonus to dice rolls when casting necromantic spells, perhaps, or protecting the wearer from necromancy or the undead.
This ring and bracelet combination is a lot less subtle, and could have some serious necromantic properties. It might give the wearer's touch the same effects as a touch-range necromantic spell, for example. Or the wearer might gain the touch ability of some undead monster, like the Chill Grasp of a WFRP4 Cairn Wraith or the paralysis of a D&D ghoul.
Not magical, but still quite useful, is this ring with a concealed pin. No well-dressed assassin should be without one: just a dab of blade venom, and you're good to go. A targeted strike to the bare neck of an unsuspecting mark might even merit a small bonus to hit if your GM is in a good mood. Damage will be poison only.
This one made me think of Ranald, the god of thieves and gamblers in the Warhammer Old World setting. Appropriately, its effects depend on the dice that are handily built in: a 12 might win you a full-blown miracle, while a 2. . . well, it was nice knowing you.
Clocks are large, cumbersome devices in most medieval fantasy settings, but a sundial like this one tells the time more or less accurately – provided you understand the seasonal shifts in the sun's path.
Here's one that every Dwarf engineer will want. The telescope function is useful by itself, of course, but add a compass and you've got a primitive theodolite for making maps.
That's all for this time. Stay in, stay well, and stay safe!
It Don't Mean a Thing if it Ain't Got That Bling
If you like this kind of post, you'll also want to see these:
Armillary Rings: Handy for astronomers, astrologers, and navigators.
Compartment Rings: Hide your true allegiance, or carry a secret message.
Poison Rings: An old classic.
Gun Rings: Add more punch to your punch.
Eye Rings: Protection, divination, gaze weapons, and more.
Let us Bling: A Ring for Clerics that unfolds into a portable shrine.
Architectural Rings: A building on your finger.
Categories:

games, Uncategorized, WFRP
Tags:

amulet, assassin's ring, cosplay, cosplay accessories, Cult Magus, d&d, divination ring, dungeons & dragons, Enemy in Shadows, Enemy in Shadows Companion, Fantasy games, fantasy role-playing, fantasy rpg, gambler's ring, ghoul touch, jewellery, jewelry, LARP, magic, magic items, magic rings, Morrslieb, necromancy, Purple Hand, Ranald, ring, roleplaying, Steampunk, sundial ring, the enemy within, theodolite, trick jewelery, Warhammer cosplay, Warhammer Old World, WFRP
2014 is shaping up to be a busy year. Right now I've got four mobile games, two tabletop RPG books, and two nonfiction books at various stages of development, and I'm also trying to keep my promise to myself that I will write more fiction.
With all this going on, I haven't had time to put together an elegant and well-reasoned thought piece or a vivid and fascinating memory of The Old Days for this update. However, there are a few bits and pieces that might be of interest:
Kingdoms of Camelot: Battle for the North is now in its third year, and still going strong. I'm currently helping develop a great new feature that I can't really talk about, which will be released later in the year. You'll see some familiar faces, and I think that fans of deeper Arthurian lore will be pleasantly surprised. That's the intention, anyway.
In other KBN news, the game is ranked #10 by worldwide revenue in App Annie's 2013 retrospective. A year ago, it was the iTunes Store's #1 top-grossing app of 2012. And, of course, it's also available for Android. I've been involved with KBN since the very start, and I'm delighted with its continuing success.
Another Kabam title I've worked on also did well in 2013, according to App Annie. The Hobbit: Kingdoms of Middle-earth ranked #8 by revenue in the U.S., #5 in the UK, and #6 in both France and Germany. Over the last year I worked on a narrative campaign feature that allows players to fight the Goblins of the Misty Mountains alongside heroes from the movies – and, in the most recent instalment, lets them take on the dread Necromancer from Mirkwood to Amon Lanc and beyond. Like all of Kabam's mobile games, this is also available on Android.
Dragons of Atlantis: Heirs of the Dragon has just acquired a great little feature that allows your dragon to go exploring when you're not using it in battle, and find you all kinds of interesting treasures. I wasn't involved with that particular feature, but throughout the last year I've been working on new dragons, new troops, and various other expansions. More on those when I'm allowed to talk about them. Also on Android.
Beside these three, I've been working on localization editing for a whole bunch of games from China that are hoping to build on their success in that booming market and move into the West. Three projects down so far, and two more in progress: more when I can talk about them. There is some good stuff coming out of China, for sure, and many commentators have tagged it as a market to watch. Russia, India, and Brazil are also poised to become significant mobile-games markets in 2014, according to many analysts.
And finally in mobile gaming, I've been working on a new fantasy RPG for iOS. I can't give any details at this stage, but I will say that the setting is interesting and I've been having a very good time developing the backstory and advising on some quite intriguing features, both in narrative and gameplay.
The two books I wrote for Osprey Adventures in 2013 have been well received, and I've signed up to write two more. Thor: Viking God of Thunder in the Myths and Legends line has been getting good reviews, and the new Templar conspiracy I laid out in Knights Templar: A Secret History has been well reviewed and has inspired both fiction writers and tabletop RPG designers. I've been contracted to write two more titles: Theseus and the Minotaur is due to be released in November this year, and I'm just starting work on a yet-to-be-announced Dark Osprey title.
I've also been indulging my love for historical fantasy in a few tabletop RPG projects.
Colonial Gothic, the game of horror and conspiracy at the dawn of American history, received a great boost from the release of the Second Edition Rulebook, and that was followed up with the release of the Bestiary in October.
Just open for preorders is Lost Colony, a unique two-period adventure that explores the mystery of Massachusetts' ill-fated Popham colony in both 1607 and 1776. It is written by award-winning author Jennifer Brozek, whose previous credits for Colonial Gothic include the acclaimed Locations mini-campaigns and the groundbreaking e-book The Ross-Allen Letters, which blurs the lines between adventure and fiction.
I'm working on another Colonial Gothic supplement at the moment. I can't talk about it yet, but it's one that has been very long in the planning and it reunites me with a favorite collaborator from my Warhammer Fantasy Roleplay days. We haven't worked together for more than twenty years, and this project promises to be a lot of fun.
As much as I love Colonial Gothic, I am occasionally tempted by other tabletop RPG projects. When author and roleplaying luminary Robin D. Laws was recruiting talent for his Hillfolk Kickstarter campaign, I was honored to be one of the people he asked to submit an original setting for this fascinating game. I pitched Pyrates as "Firefly of the Caribbean," and it was a lot of fun to write.
British publisher Chronicle City ran a Kickstarter campaign for their version of the Steampunk classic Space: 1889 – a favorite of mine from the 80s – and I offered an adventure for a stretch goal that, sadly, was not reached. I still hope to write it someday. Their Kickstarter campaign for Cthulhu Britannica saw me contribute to their intriguing postcard-based adventure generator. I was especially happy to be involved with this project because my first commissioned work for Games Workshop, way back in 1985, came when they were developing A Green and Pleasant Land, the first ever British sourcebook for Call of Cthulhu.
Last year I wrote a couple of articles for Steve Jackson Games' Pyramid magazine, both about obscure guns. The Puckle Gun, a repeating heavy musket, was covered in issue 3/52 (February), while the fearsome Nock volley gun appeared in issue 3/57. I'm planning to adapt both these weapons for Colonial Gothic in the near future, possibly in an unannounced supplement that I have on the back burner. Meanwhile, I have another article – not gun-related this time – being considered for a future issue of Pyramid.
Finally, 2013 was the year I discovered the Oldhammer movement. It seems that there are a lot of folks out there who remember the Games Workshop products of the 80s with great affection, and several of them asked me to give them interviews or to share my memories of working at GW during what some regard as that golden age. I have a couple more interviews lined up, but here are links to some that have appeared so far.
So that's what 2013 looked like for me, and what 2014 is looking like so far. As always, I'll be covering ongoing projects in more detail just as soon as I'm allowed to talk about them. But now I'd better get back to work – there's plenty to do.
Categories:

games, writing
Tags:

2013, american revolution, Battle for the North, Call of Cthulhu, colonial gothic, conspiracy, Dark Osprey, dragons of atlantis, e-books, ebooks, fiction, flames of freedom, freelancing, game writing, games, games workshop, Greek myth, GURPS, Hillfolk, history, horror, Kabam, Kickstarter, kingdoms of camelot, localization, lovecraft, memories, Minotaur, MMO, mobile games, mysteries, mythology, nonfiction, Norse myth, Oldhammer, Osprey Books, pelgrane press, publishing, Pyramid, Pyrates, Robin Laws, rogue games, roleplaying, roleplaying games, rpg, rpgs, Space 1889, Steampunk, templars, The Hobbit, the hobbit movie, Theseus, Thor, video games, warhammer
Join 478 other subscribers
Archives