Posts Tagged 'ealry guns'
There's an old saying about bringing a knife to a gunfight, but the painfully slow reload rates of black-powder firearms made it advisable to have a backup weapon. Some attempts were made to combine the two: bayonets became the most popular solution, but there were quite a few attempts to build pistols into melee weapons of various kinds.
These included swords:
Daggers:
Axes:
And warhammers.
In a roleplaying game, a combi-weapon is a one-shot firearm. Most would be pistols, though some, attached to two-handed weapons, might count as larger firearms. They reduce the time needed to switch weapons, perhaps to no time at all. However, they have some significant drawbacks:
In the first place, they are not generally available. Almost all will have to be made to order, which takes both time and money. The cost will be at least twice the sum of the cost of the two base weapons, and the same is true of the time needed.
An artisan charged with making a combi-weapon must be skilled as a gunsmith as well as a bladesmith. All skill rolls involved in making a combi-weapon carry a significant penalty.
The finished article represents the worst of both worlds. It is heavy and awkward to aim, and ill-balanced for close combat. In game terms, the very best combi-weapons, made by master artificers (even Dwarves!) can never be better than average quality. Most are inferior, and if your game system has a way to rate quality, a combi-weapon is at least two quality steps below the normal level of quality produced by the artisan who made it. There are attack penalties, an increased chance of misfires, and the weapon is weaker overall, meaning that it is more easily damaged in combat if your rules set covers damage to weapons.
That said, though, it can give a wielder the advantage of surprise. An unexpected gunshot at the start of a fight can unnerve the enemy, who will be left wondering what other tricks the character might have up his or her sleeve. Enemies will be warier, even if they don't mean to be, adopting a more defensive, cautious stance. How this is handled in a game's rules is a matter for the GM to decide. Especially skittish foes may have to make Fear checks to get over the surprise of a combi-weapon firing, running away if they fail.
So there you have it – and you can see why they didn't really catch on. Still, I can imagine some players' eyes lighting up at the thought of a sword that is also a gun, and you can have a lot of fun if the party decides to track down an artisan capable of making such a weapon and persuade them to try.
More Like This
Multi-Barrel Weapons: What's better than a gun? Lots of guns.
Hidden Weapons: Pay attention, 007!
Categories:

games, Uncategorized, WFRP
axe gun, Black powder fantasy, combi-gun, combi-weapon, combination weapon, dagger gun, dwarfs, ealry guns, Early guns, exotic weapon, fantasy guns, firearms, Flintlock, games, guns, GURPS, hammer gun, hidden gun, nuln, pistol, pistolier, rpg, rpgs, sword gun, warhammer, WFRP
The "Bling" post on ring guns was well received, so here are a few more interesting and surprising guns for your black-powder fantasy games.
Before metal cartridges were invented in the 19th century, reloading was a major limiting factor on a gun's usefulness. One idea to mitigate the problem was the development of multi-barreled weapons. They fall into two broad classes: volley guns, where all the barrels fire at once; and single-fire guns.
Volley Guns
Volley guns can do a lot of damage, but reloading takes a very long time and the recoil of so many barrels firing at once can injure the user. To make things worse, some designs allow misfires to cascade from one barrel to the others, turning the weapon into a fragmentation grenade held right by the user's cheek. A few years ago I wrote an article on the 19th-century Nock Volley Gun for Pyramid magazine, which includes rules for GURPS.
Here is a video of a Nock gun firing.
Duck-Foot Pistols
True to their name, duck-foot pistols have 3-5 barrels that splay out like the toes of a duck's foot. They may be useful in a one-against-many situation – for example, a ship's captain faced with a mutinous crew – but historically they were more intimidating than deadly. The recoil from three to five barrels whose caliber could be as much as .50 was considerable.
Here is a typical duck-foot, listed as .52 caliber.
Here is a video that goes into more detail.
With eight barrels, a mini-bayonet, and a spiked club pommel, this duck-foot certainly gives its user a lot of options!
Single-Fire Guns
Some single-fire guns (I don't know if there's a better term for a multi-barrelled firearm where the barrels fire one at a time, but if there is, please let me know!) have multiple triggers like a double-barrelled shotgun, if there are not too many barrels. They can be fired one at a time or in a both-barrels volley.
This pistol is three guns in one.
Others anticipate the design of the revolver by having a single trigger and firing mechanism, and rotating the cluster of barrels to fire them in succession. Depending on the game system, the act of moving a new barrel into line may require a short action, or it may be free. "Pepperbox" pistols, as they were called, were first made in the 1500s and by the 19th century they could have as many as 24 barrels.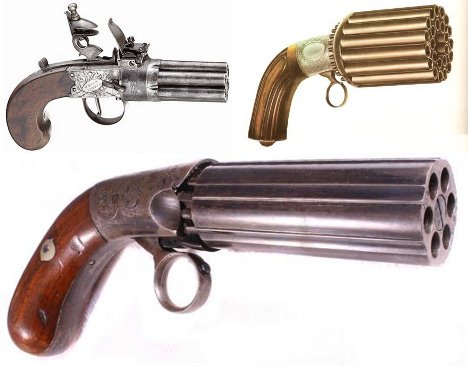 While their recoil is not as dangerous as that of a volley gun, these weapons were still heavier than their single-barrelled counterparts, making them harder to raise and aim. Depending on the rules set you use, some kind of strength check might be required to avoid a penalty to hit.
---
For WFRP fans, Cubicle 7 recently re-released the 1st edition Warhammer Companion, which includes an article on duck-foot and other interesting gunpowder weapons. You can get it from DriveThruRPG.com. Maybe one day when I have a little more time I'll do a new version for WFRP 4th edition.
More Like This
Combi-Weapons: Now you can bring a knife to a gunfight.
Hidden Weapons: Pay attention, 007!
Categories:

games, Uncategorized, WFRP
Black powder fantasy, duck foot, dwarfs, ealry guns, Early guns, fantasy guns, firearms, Flintlock, games, guns, GURPS, nuln, pepperbox gun, pistol, pistolier, rpg, rpgs, volley bun, volley gun, warhammer, WFRP