Posts Tagged 'DnD'
In Dragon #348 (October 2006), I wrote "Ecology of the Wight". A lot of my original material was cut from the published version, so here it is. I hope you find it useful, or at least interesting.
I was hoping to include a link so you could buy the magazine online, but it doesn't seem to be available on DriveThru or the DMs' Guild. If anyone knows of a place where non-pirated copies can be obtained, please drop a link in the comments below. Thanks!
---
Advanced Wights: Non-Core Sources
This article [the one in Dragon] assumes that the DM is only using the three core rulebooks, but DMs who have access to additional rulebooks and supplements will find more options for producing advanced wight characters.
Libris Mortis
In addition to general notes on undead characters and NPCs, this sourcebook contains much that will be useful to a DM planning a wight-centered adventure or campaign. The evolved undead template allows the creation of ancient and powerful individuals with spell-like abilities. Feats like Improved Energy Drain, Spell Drain, and Life Drain increase the power of the energy drain ability that wights share with many other undead creatures. Monstrous prestige classes include the lurking terror with its enhanced stealth abilities, and the tomb warden (only available to a wight who has already advanced by other means) which confers many useful abilities within the confines of a particular tomb complex. New undead creatures include the slaughter wight, which could make a good leader or champion, and several other monsters that might be found alongside wights in a barrow-field or necropolis.
Monster Manual II
Of most interest is the spellstitched template (page 215), which confers spellcasting ability on an undead creature. With their high Wisdom, wights gain access to first through third level spells by spellstitching – and gain some useful save bonuses – while only increasing their CR by one.
Savage Species
The emancipated spawn prestige class (page 75) is available to creatures and characters who became the spawn of an undead creature such as a wight, and who regain their independence after their creator has been destroyed. As they advance in this prestige class, emancipated spawn gradually remember the skills and class features that they had while living. The wight template (page 136) can be used to create variant wights based upon any humanoid creature.
---
Wight Lairs
Unless they are under the command of a necromancer or some other master, wights normally lair in tombs. As their full name of barrow-wights suggests, they are often found in earthen burial mounds, but they can make their lairs in any kind of tomb complex or necropolis. A wight lair will usually be the original burial-place of the oldest wight in the pack (sometimes called the master wight); younger wights are usually the spawn of that first individual.
Wight lairs are usually cramped, dark places. Narrow passages and low ceilings hamper weapon-using intruders and favor unarmed wights. They use their knowledge of their lair's layout, along with secret doors and passages, to spring close-quarters attacks without having to advance under fire from spellcasters and ranged weapons. Labyrinths of short passages allow a pack of wights to surround intruders and attack from all sides; their Hide and Move Silently skills give them a good chance of gaining surprise. Shifting walls and other devices are sometimes used to confuse and disorient outsiders.
Wights' acute senses and stealth skills make them skilled and dangerous ambushers. When faced with a strong party, their usual tactic is to try to pick off enemies one by one, draining their life energy at leisure and turning them against their former comrades as wight spawn.
A Sample Wight Lair
The map shows a typical barrow where wights might be found. Built millennia ago to house the honored dead of a long-forgotten people, it is built of stone, filled in with dirt and rubble between the walls. Its front is dominated by a curved façade of monumental stones.
Inside, a narrow passage leads past a number of empty tombs (which might hold minor encounters such as rat or spider swarms) to an apparent dead end. The rubble is a decoy, though, intended to distract intruders while 4-5 wights use the secret passages to get behind them. They will not attack right away, but will follow stealthily until the adventurers are busy fighting the rest of the wights in the narrow confines of the two pillar rooms. Then they will mount a surprise attack, surrounding the trespassers and using their energy drain and create spawn abilities.
The four rooms at the far end of the barrow belong to the king and queen, who may be more powerful than the others (see Advanced Wights above). The treasury contains a little treasure (note that wights normally have none). The king's tomb is hidden by a secret door in the back of his stone throne, and may contain some magical treasures or other special items.
---
Finding Wights
Wights are not only found in dark barrows on lonely, mist-wrapped moors. Here are a few ideas for placing them in other locations.
The Dead Below
From their headquarters in an abandoned catacomb beneath a city's oldest cemetery, a powerful band of wights can use sewers, thieves' tunnels, and other underground passages to reach almost anywhere. Moving mainly by night, they remain unseen and unheard as much as possible, ambushing unwary victims returning home from the city's hostelries and other unfortunates who are outside after dark. Their ultimate goal may simply be to survive undetected, or they may have come to the city in search of an ancient treasure that was stolen from their leader by grave-robbers, and which now rests in the vaults of the thieves' guild, or the academy of magic.
Fortress of Nightmares
The wights' stronghold is heavily defended, both above and below ground, with multiple entry and exit points through small tombs and mausolea nearby. In addition, the wights may have control of swarms of vermin, rats, and the like, as well as alliances with other undead creatures – especially lawful evil undead – that make their home in the cemetery. These undead allies may not fight alongside the wights, but they might inform them of adventurers headed their way, or mount surprise hit-and-run attacks on living trespassers who are already engaged in fighting the wights.
The Forbidden Island
A remote island also makes a suitable home for a pack of wights, especially if it is dotted with the remnants of a lost civilization. If no living souls have set foot on the island for a long time, the wights' hunger for life energy will make them particularly aggressive. Their first act will probably be to disable any watercraft or other means of escape from the island, and then pick off stragglers or scouts to reduce the visitors' numbers before mounting an all-out attack by night. They may set traps in the thick jungle of the islands, or among the rubble-choked ruins.
Not Just Mummies
Desert tomb complexes – with or without pyramids – also make good homes for wights. Adventurers will probably expect to find mummies in such locations, and wights will take them by surprise, at least initially. If the wights are dressed in scraps of bandage, the confusion over their true nature may last beyond the first encounter – and nothing worries adventurers more than not knowing what they are up against. True mummies can act as leaders or elite fighters, and spellcasting mummy lords can make up for their comrades' lack of magic.
---
My Complete and Utter D&D Bibliography
Everything I have published for various editions, starting in 1982. Includes links to some free downloads.
Click Here.
Rookery Publications
Categories:

games, Monsters, Myth and Folklore, Uncategorized
Tags:

3.5, d&d, d20, DnD, Dragon Magazine, dungeons & dragons, games, pathfinder, roleplaying, roleplaying games, rpg, rpgs, undead, wights
Here are a few more images that Pinterest threw my way. Apart from Jewish bridal rings, I did not know that rings in the shape of buildings were a thing, but here is an interesting selection.
I've thrown in a few thoughts about what these shapes might mean for magical rings in a fantasy game.
Note: All images are copyright their original owners, at the urls indicated.
The Castle
The castle is a symbol of safety and protection, so this ring might give its wearer a significant boost to armor protection, or protect in some more subtle way.
The Palace
The palace is a place of power and authority, so a ring in that form might give its wearer a boost to their social status and accompanying skills, making others treat them as powerful nobles even if they are not.
The Temple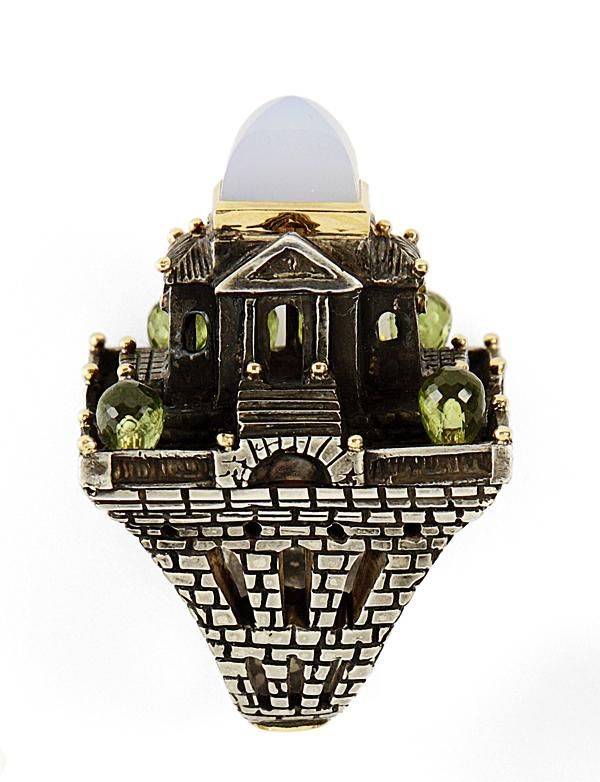 Like the portable shrine ring from an earlier post, this ring might give the wearer the same protection as being on consecrated ground, or it might give their prayers greater efficacy, perhaps even granting limited clerical powers to a non-cleric.
The Tower
Towers are usually associated with wizards, so this ring might enhance a wearer's magical abilities, possibly allowing them to cast spells at a higher level than normal or making their spells harder for targets to resist.
So there are a few ideas to play around with. For more buildings, search for 'architectural rings'.
It Don't Mean a Thing if it Ain't Got That Bling
If you like this kind of post, you'll also want to see these:
Armillary Rings: Handy for astronomers, astrologers, and navigators.
Compartment Rings: Hide your true allegiance, or carry a secret message.
Poison Rings: An old classic.
Gun Rings: Add more punch to your punch.
Eye Rings: Protection, divination, gaze weapons, and more.
Miscellany: No theme, but lots of possibilities.
Let us Bling: A Ring for Clerics that unfolds into a portable shrine.
Categories:

games, Uncategorized, WFRP
Tags:

d&d, DnD, dungeons & dragons, fantasy, fantasy game, magic ring, ring, roleplaying, Roleplaying game, rpg, warhammer, WFRP
Join 486 other subscribers
Archives